Combining Danish design with our commitment to sustainable practice, we repurpose and reimagine features from our pop-ups, events and installations.

For bespoke pieces and collaborative projects please get in touch:

contact@aloh.studio
Versatile plinths designed for art galleries, museums or shop display. Multi-functional and made to measure, can be covered in array of materials - our recent favourite:
preserved moss
.
A distinctive shoe stand, made from bamboo ply. Use of sustainable, durable material and flat-packed design ensures it can be used repeatedly.
Size can be adapted to fit to product.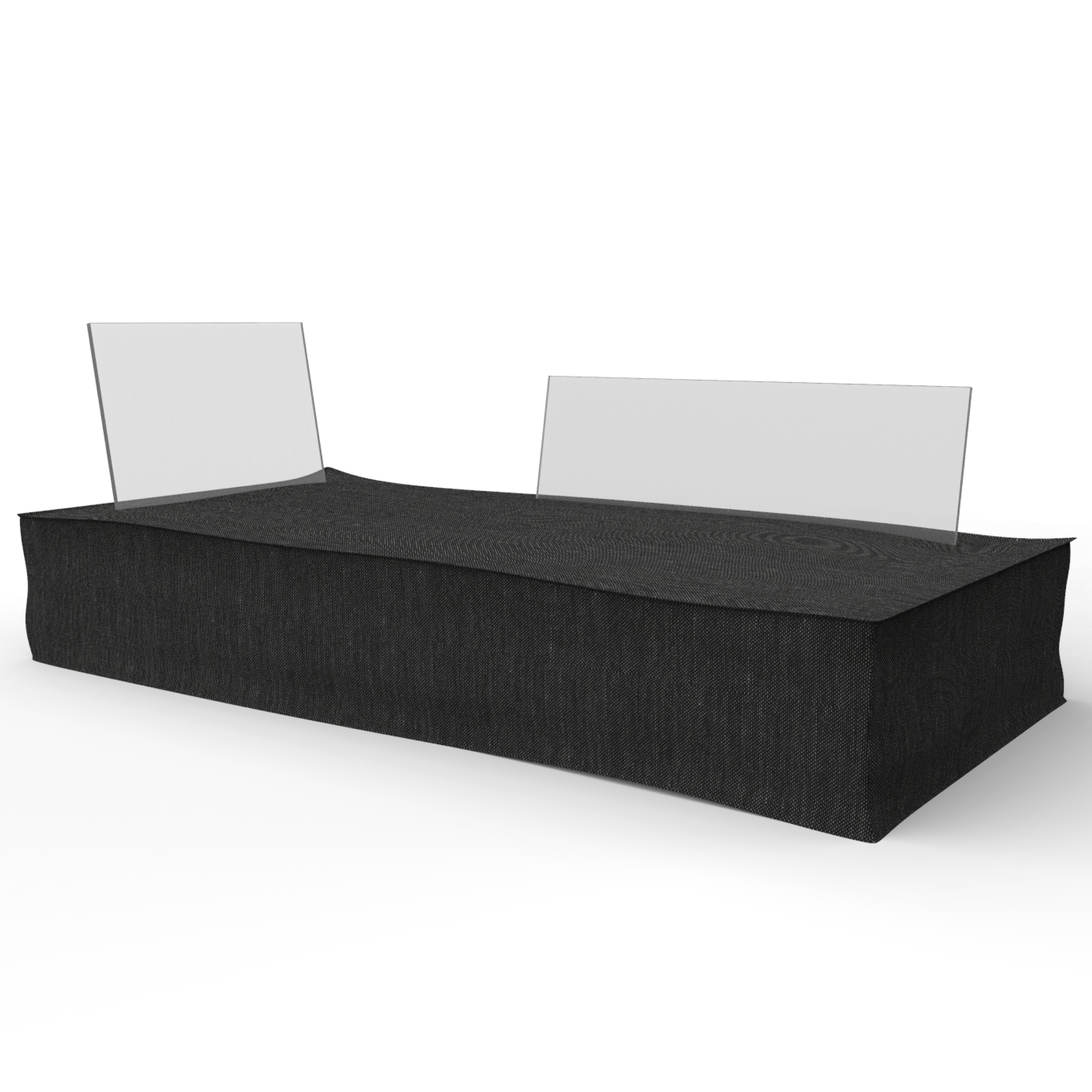 Bamboo ply wall made from sustainable bamboo plates, CNC cut and constructed from multiple panels.

Repurposed wood of any kind can become this backdrop, room divider,
shelving framework or mattress base. Custom size to order.
Inspired by Gerrit Rietveld's transformative bench design, this minimal sofa is made from recycled acrylic, organic linen and natural filler. Originally made from
repurposed decommissioned parachutes.
Various material and colour options available.

Versatile shelving cabinet, with sliding door.
Delivers a secret 'reveal' moment. Our decision to used repurposed metal sheets was to attach images onto the door with magnets.
Alternative material options available.
Explain your history, show transparency in your business, display process or
showcase a campaign
and products.
Creatively collecting assets and materials to display and celebrate projects. Bespoke 80x180cm wooden frame, made to order.
Table top made from found wooden road barriers and old skateboards. Using disregarded materials from an urban environment we designed a unique, one-of-a-kind tabletop.

We thrive at creating beautiful bespoke pieces from urban excess. The options are infinite.

A simple solution fit for multiple purposes. 'L' shaped recycled acrylic and bamboo veneer stands alone or combined to become a box, stand or signage.

All units can be customised by digitally printing logos or adding a laser cut option in additional material. Display units can be made standalone or designed to connect to additional pieces.

Available in a range of materials, colour and cut to custom size.






Birchwood and recycled Greencast acrylic display box.
Flexible use, light, adjustable and can be flat-packed for ease of transport.


Reclaimed wood and glass
Ideal for galleries, museums and jewellery display.




Made to measure, recycled Greencast acrylic display box.
Internal tiered shelving to deliver stacked display options.
Flat-packed for ease of transportation.



Bespoke communal table perfect for co-working spaces, meeting rooms, events and dining. Ideally made with recycled wood. Stools designed to flatpack for efficient storage.


The Conversation Table

---


The Coffee Table
---
Tabletop made of compressed recycled plastic, CNC finish in waves.
Celebrating movement and curves, inviting interaction from all angles.
Legs are made from aluminum pipes, easy to dismantle and flat pack.
Coffee table, side table, private work desk. Made of 100% recycled wood.
Inspired by Eileen Gray's work: "De Stiji" Side Table (1922) the piece is elegant and multi-functional. Different colour options available.

The Folding Shoji Screen
---
Folding screen, made out of natural birch wood and leather joints, plain or hand painted surface.
It works beautifully as room divider or backrdop to video calls. It is multifunctional, flat pack and made to order.