#TOGETHERBAND, Regent Street, LONDON
---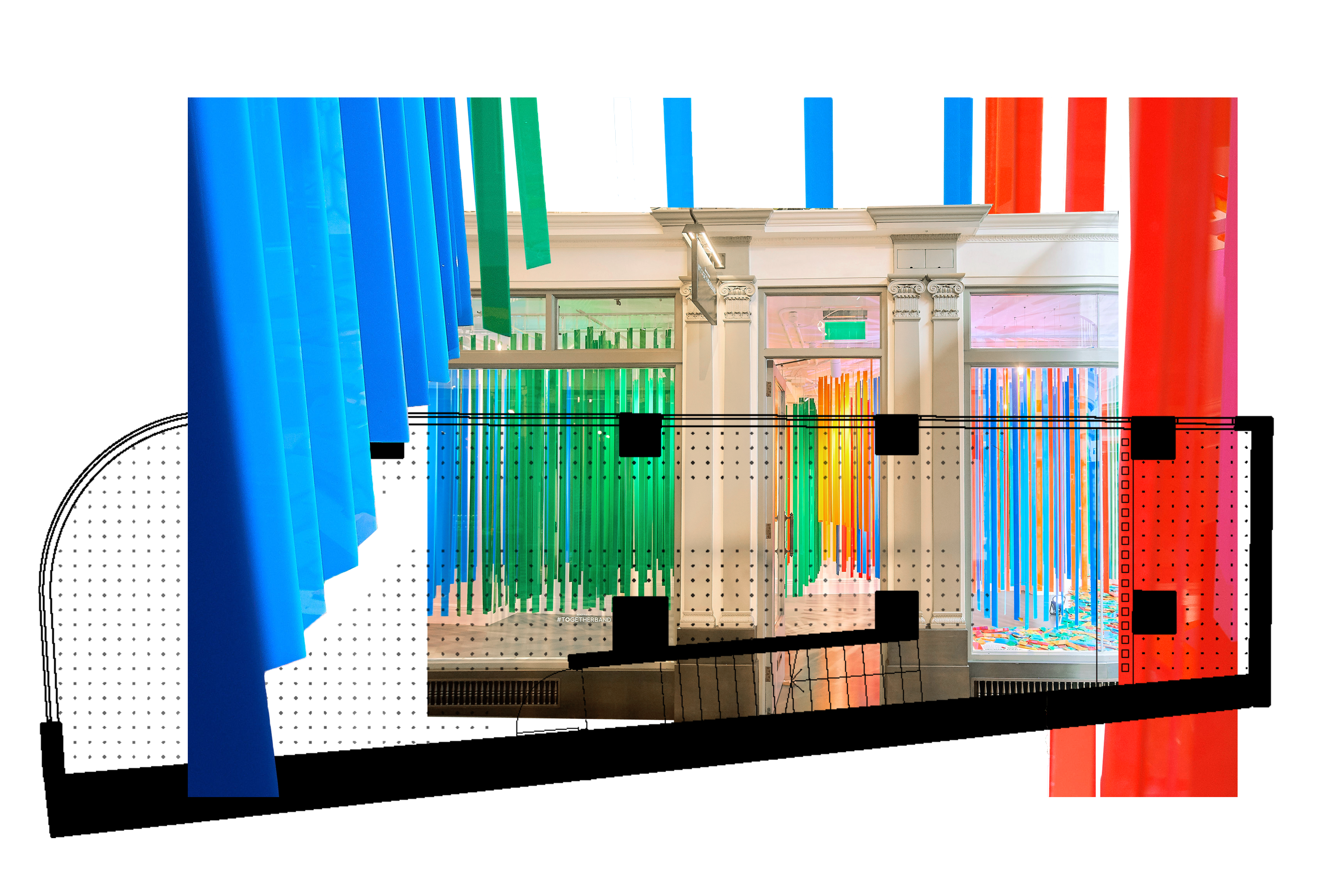 A campaign to raise awareness and humanise the UN 17 sustainable goals to spark a global movement.

Designing and producing the worldwide #TOGETHERBAND launch in collaboration with Bottletop, delivering a Popup retail space, vibrant sustainable brand activation and exclusive event.
"Transforming the world of sustainable fashion"
INSTALLATION SPACE: Side view
---
Installation spread over 3 floors to combine retail pop up, #TOGETHERBAND POS, film screenings and campaign information, interactive installation and live music space.
THE FOREST
---
Guests were encouraged to walk through and explore the forest.
Strips inspired by #TOGETHERBAND in vibrant colours.
Made from recycled Greencast acrylic.
#TOGETHERBAND DISPLAY CASE
---
Designed for flexible use, repurposing aluminium can as display
medium.

#TOGETHERBAND strives to unite a global community, sharing commitment to all of the 17 UN Global Goals. The aim: to bring together one billion active citizens to achieve these Goals.
THE DOME
---
Immersive installation for film screenings, demountable design made from recycled cardboard, viewer's mat cut from recycled rubber.


Viewers were encouraged to lie down to view each film, simultaneously enclosed and engaged with the informative content from #TOGETHERBAND supported initatives.
RETAIL POP-UP SPACE
---
Designed for luxury accessories brand Bottletop. Over 2 floors, showcasing new collection.
MONOCHROME BENCH & DISPLAY
---
A reflection of the coloured bands, a demountable, monochrome display unit with removable acrylic strips allowing for flexible visual merchandising and options for seating. Made from wood and recycled acrylic.
2ND FLOOR - RETAIL SPACE
---
A host of unpretenious materials, sand, chicken wire, rush matting, neon string - created a simple, organic multi-tiered display.
EVENT LAUNCH, REGENT ST, LONDON.
---
A curated evening with talks, screenings and live music supported by a carefully selected drinks list and vegetarian menu. Guests were invited to explore all 3 floors, with the central atrium hosting the main activity and the basement hosting a party that ran into the early hours.