UBS STUDIO, Art Basel, Switzerland
---
2019



The UBS Art Studio in 2019 was dedicated to #TOGETHERBAND in support of the UN's 17 Sustainable Development Goals.

This initiative was also endorsed by Federico Herrero who exhibited his work within our designed booth.



FEDERICO HERRERO
---
Federico Herrero's work responded to the effects of climate change and the influx of plastic threatening the coastline of his home Costa Rica.
He created a vibrant series of mono prints, that in concept and execution stood as a perfect compliment to the #TOGETHERBAND campaign and the UN's 17 Global Goals.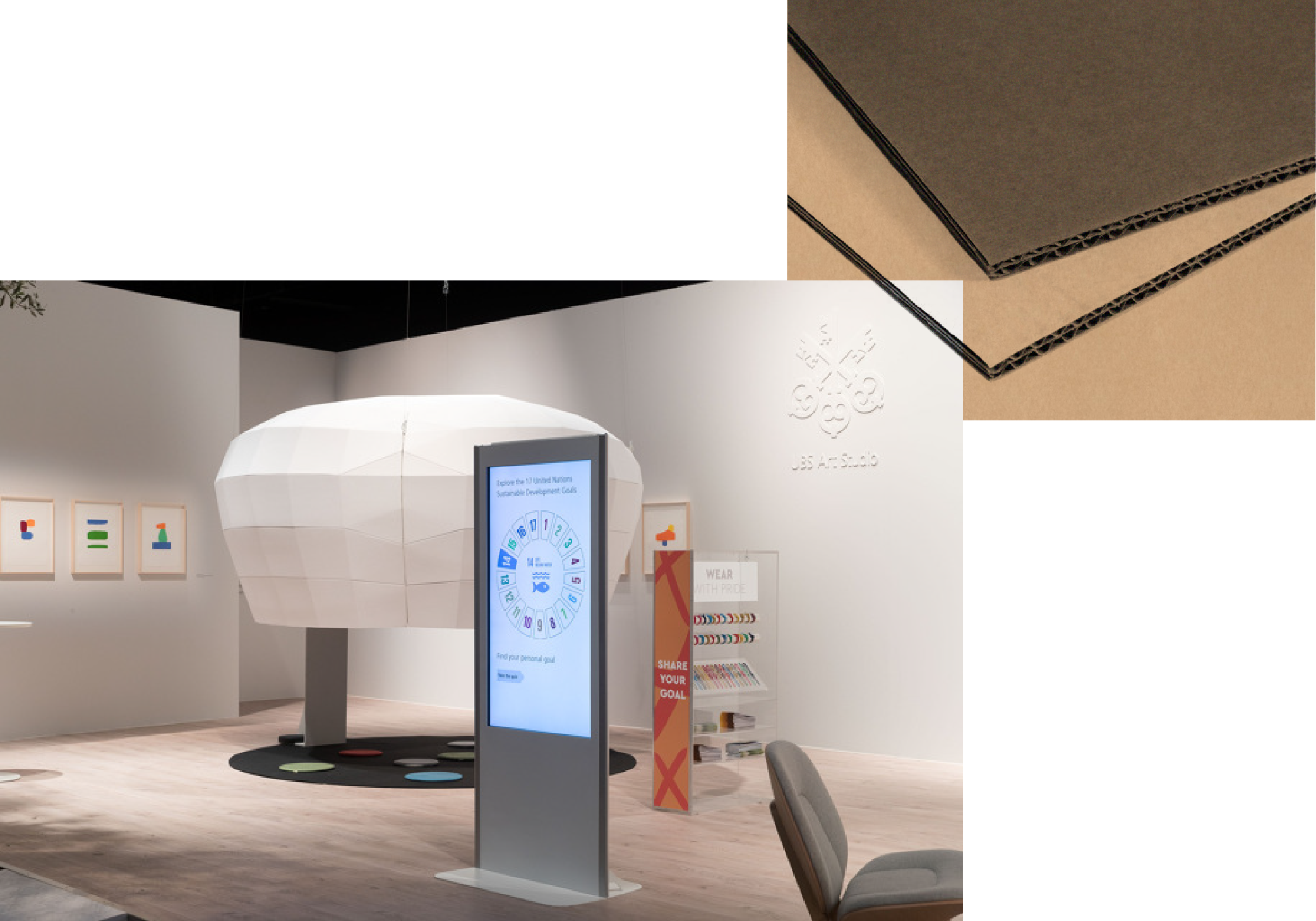 DOME - SCREENING
---
A handcrafted dome, made of 100% of recycled carboard.
Demountable structure, connected via indvidual recycled cardboard panels.
"Life bellow land" was the film projected inside inviting guests to enagage with the content by reclining on the floor to view. Viewers became immersed in the space, enclosed to focus on the film screened on the roof of the dome.
#TOGETHERBAND
---
On first glance the dispenser appears as a colourful bar chart - displaying which causes the public are most engaged with.
Demountable by design, installed and utilised at all #TOGETHERBAND pop ups and stores.
Visually represents the goals as well as providing a mobile POS unit. The display "dispenser" is cut from clear and white recycled acrylic.


TAPESTRY
---
The #TOGETHERBAND tapestry also stood as a work of art in the UBS Art Studio; allowing the viewer to reflect on the Global Goals and to celebrate craftsmanship and community.
UBS STUDIO, Art Basel, Miami
---
2019
UBS STUDIO, Art Basel, Switzerland
---
2020
Design plan only, as Art Basel 2020 was cancelled due to Covid 19.
BRIEF
---
We were approached to address questions around the following UN's 17 SDGs:
- What are the 17 Sustainable Global Goals?
- What does each colour represent and why?
- How can viewers interact and engage with the message?
KINETIC TAPESTRY
---
We proposed an interactive installation which would attract and engage vistors throughout the duration of the fair.

An installation with rotating, moving individual panels, revealling the goals' colours and campaign messaging powered by attendees' touch.






LINKS
---